Over halfway through the year and there's so much happening in the Sydney building industry.  We thought we would take some time to explain what is going on.  This will help you understand how it fits with your building a new home in Sydney or planning a renovation and extension.
We all know there is a construction boom at the moment.  Government is spending big on road and rail, education, health and social infrastructure as an economic stimulus response to the COVID-19 pandemic.
In the private sector, very low interest rates, no overseas travel and huge numbers of employees working from home, is encouraging homeowners to spend money on home upgrades.
CommSec says, renovation loans alone increased 7.4 per cent in June, hitting a 19-year record.
This is presenting a few issues for the economy – demand for labour and materials is outstripping supply.
Pressure on labour costs
With building stimulus and COVID-19 restrictions on trades (local government areas of concern, the two-week shutdown of the construction industry in Sydney in July 2021, as well as a pause to overseas immigration) is pushing demand for labour to unprecedented highs.
Findings from the 12th International Construction Market Survey from Turner & Townsend found that Sydney markets will experience annual construction cost hikes of more than 3% up to the end of 2023.  The 2021 average cost to build in Sydney is $2640 per square metre.
Homeowners can overcome labour cost rises by choosing materials and designs that are less labour intensive such as pre-fabricated products.  Another alternative is to lock in builder contracts sooner rather than later and build at a time that suits you.
If you need pricing from a Sydney builder, call us today on 1300 676 166 and we'll only be too happy to give you a comprehensive quote from your home plans.
Sydney building industry and building materials shortage
The biggest and most pressing shortage is in structural pine timber, primarily used in timber framing. Exacerbated by the 2019-20 bushfires, where significant pine forests were burnt and the additional building demand across Australia.
Modelling by the CFMEU, suggests the building industry needs 2.1 million cubic metres of timber framing this year, however, the nation's sawmills capacity sits at only 1.8 million cubic metres.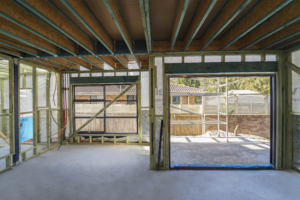 This shortfall in supply is driving up demand.  As a result, we are seeing an increase in the cost of building and delays in sourcing products.  The industry is looking for ways to shore up supply issues and one of these is to replace timber with steel.
Steel framing a valid alternative
Traditionally, steel framing is the more expensive option due to its production involving raw materials and an installation that is more labour-intensive.  However, if you can't wait to start your new build or extension, a steel frame can be a strong alternative to a timber frame.
Steel frames are stronger, last longer and are termite proof.
Each of the steel frames are riveted and bolted together into place and provide a robust and solid frame for plasterboard.  There is skill in the installation of a steel frame so it should be done by a professional.
Both timber and steel frames are great materials as a stable and solid foundation for any home.  We recommend you talk to your builder or call our builders Adam or Alfie on 1300 676 166 to discuss which is the most appropriate for your building work.
Delays in other building materials and products
There are a few other building materials and fittings, experiencing delays in delivery, especially for items such as chipboard and tiles that come from overseas.
Our recommendation when building is to choose your fixtures and fittings early.  This gives your builder time to order them, and they arrive before construction. This way any delays can be mitigated before they become a problem for the build.
COVID-19 and the Sydney building industry
Although most building sites are now open (except those in the local government areas of concern as at August 2021), all NSW businesses need to fulfil their obligations under public health orders.
In an attempt to minimise risk of transmission of COVID-19 on premises, these health orders not only protect the employees of a business but also its customers and visitors.
Each approved COVD-19 Safety Checklist will be different for each business, depending on the industry.
For Sydney building companies like SBR Group, COVID-19 Safety Plans are mandatory on every work site in Greater Sydney.
As of 14 August 2021, building sites across Greater Sydney opened with new rules.
For worksites, these safety plans include –
QR code check-ins for all employees, visitors, trades, for each site,
The 1 person per 4 square metre rule applies,
Mask wearing where social distancing cannot occur.
Safety on new home building sites
Home building sites that can operate in Greater Sydney can have the lesser of:
 1 person per 4 square metres of space at the construction site; or
50% of the maximum daily workforce.
The maximum daily workforce is the maximum number of workers on site on any day from the start to the end of the project. The maximum daily workforce must come from the current resourcing plan for the construction site.
COVID-19 safety at homes and apartment renovations and extensions
A limit of 5 people in total for the day to carry out outdoor building work.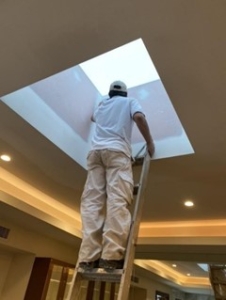 Has a limit of 2 people working, and the resident must stay in a separate indoor area to where the work is being carried out.
Trades people from local government areas of concern will need to adhere to stricter rules regarding testing and vaccination.  Find these rules here.
How does COVID-19 affect my HomeBuilder grant?
For all building contracts signed 4 June 2020 to 31 March 2021, the Australian Government has extended the construction commencement requirement from 6 months to 18 months for all applications.
There's a lot going on in the Sydney building industry.  We'll keep you up to date on what's happening, and it impact on your home building project.  Please contact us here or call us on 1300 676 166 if you have any questions or concerns about your plans for a new home for your family.
More reading –
Can't decide if you should renovate or rebuild.  Here are the facts to make the right decision for your family.
Building on a sloping block? Here's how to make your design take advantage of your block.